How encrypted traffic analysis works
Flowmon Encrypted Traffic Analysis collects network traffic metadata in IPFIX format using passive probes and enriches it with TLS protocol information (among others). These attributes of the encrypted session between clients and servers are available regardless of the client's physical location or whether the server runs in the cloud or datacenter. This provides a wealth of insight about the traffic and allows for the identification of out-of-date SSL certificates, policy non-compliant certificates, encryption strength and old TLS versions that may contain faults or vulnerabilities. Furthermore, a machine learning engine uses this data to perform behavior analysis and anomaly detection to identify malware and other threats.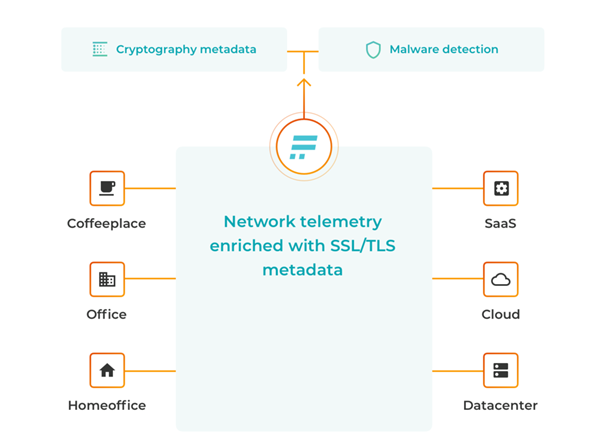 This approach does not violate privacy, nor does it degrade performance. It provides insightful analytics regardless of the volume. Moreover, since the data is stored in an aggregated form, it saves a considerable amount of storage space without impeding information fidelity.