This is not just an anecdotal problem. Data from ZX Research shows that 90% of an IT team's troubleshooting time goes on figuring out if there is an issue at all, never mind where it originates. Added to this stat is one from the Network Management Megatrends 2018 study by Enterprise Management Associates that shows 35% of all network management time is used for reactive troubleshooting after something has gone wrong.
Network visibility challenges
These data tell us that there is a network visibility gap in many organizations. In an ideal world, system administrators would discover issues before they impact application performance. When they don't, it leads to problems like:
Lost productivity
Application users get impacted, which slows them down, which impacts productivity. In the worst cases, the application they need is offline, and they can't work at all.
Business impact
Reduced productivity inevitably leads to a business impact on many fronts.
Customer turnover
If the applications with problems serve external customers, they will look for other options from a business's competitors. It's easier to lose customers than it is to acquire them!
Potential blind spots
Visibility gaps on the network are open to being exploited by cybercriminals and insider threats.
Plugging any gaps in network visibility is important, but it is also difficult without suitable tools. Progress Flowmon is a solution that can monitor hybrid cloud-based networks and applications via a machine learning based expert system that can discover, analyze, and provide remediation advice using industry-standard frameworks such as the Mitre ATT&CK Framework.
Flowmon network telemetry delivers multi-level visibility
By capturing and analyzing various types of network traffic and telemetry information Progress Flowmon can plug the visibility gaps that many organizations have on their network. After examining the data and comparing trends against known issues and cyberattack vectors, a dashboard presents an overview of the network status, as shown in the sample screenshot below.
Flowmon network monitoring dashboard on connected data source (load balancer)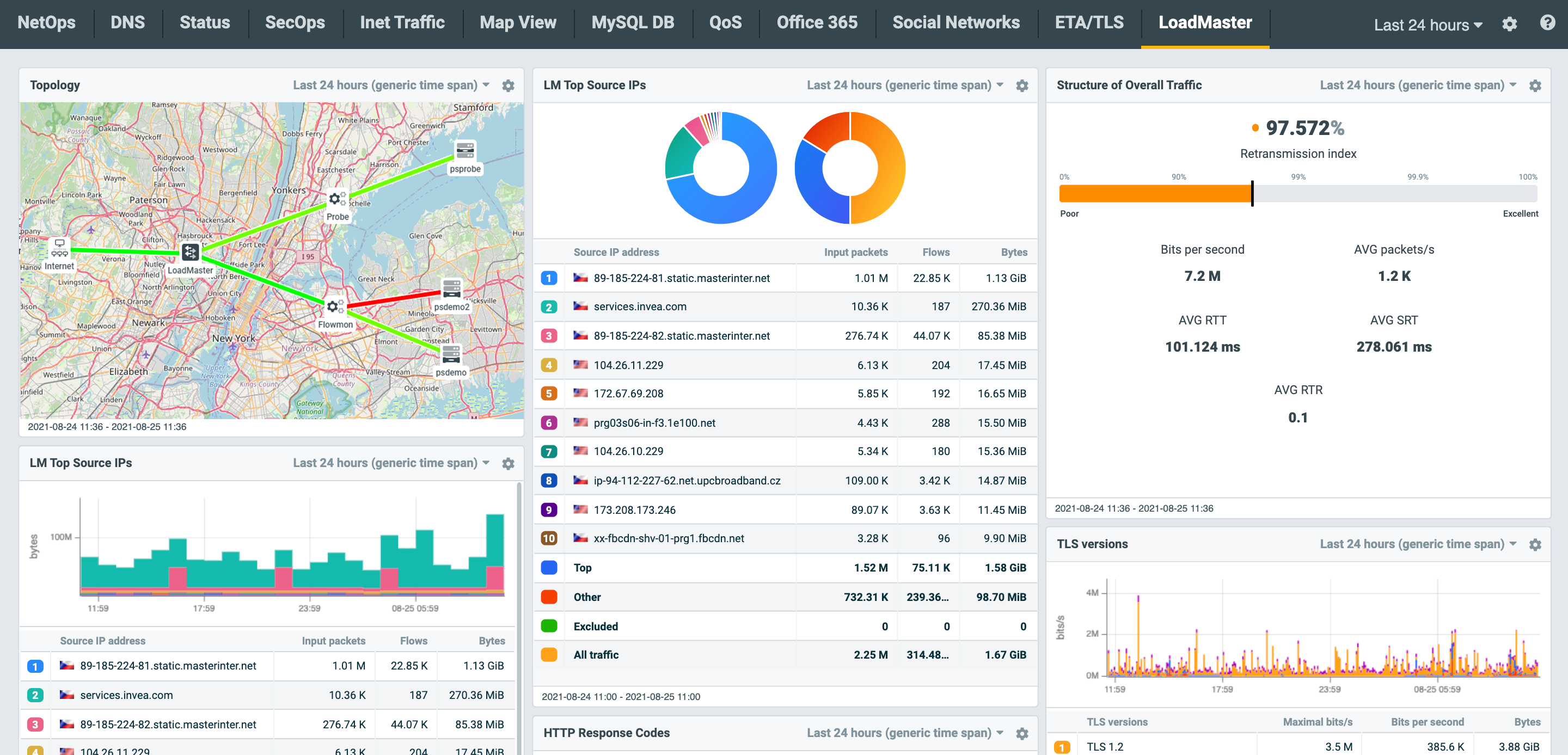 The machine learning based analyzer provides:
A single screen on which to visualize the network state across the whole environment, backed by comprehensive alerting.
Quickly see any issues causing performance degradation.
Reveal bottlenecks, analyze errors, and automate the detection of abnormal behaviors.
Pinpoint precisely where the problem is to avoid the "passing the buck" chat that often accompanies reported application performance issues.
Progress Flowmon benefits
Many benefits flow (pun intended) from deploying Progress Flowmon to monitor and analyze a network. They include:
Top expert experience - the built-in knowledge in Progress Flowmon provides industry network and cybersecurity expertise and suggestions for remedial actions.
Reduce business impacts - detect issues, capture data, determine the root cause, and get suggested fixes in real-time. Preventing hours or days of poor performance or downtime.
Consolidate network tools - get monitoring of availability, capacity, compliance, forensics, and troubleshooting from one expert system.
Automating analytics - autonomous investigation of the root cause of any issues.
Build an audit trail - record and store only the data needed for post-event analysis and auditing.
Below we summarize some real-world examples where Progress Flowmon customers benefited from the solution.
After a vendor updated an application, a major healthcare provider suffered a drastic slowdown across a whole hospital. The vendor said that something on the network was at fault and had nothing to do with their recent changes. Progress Flowmon data showed that the slowness started immediately after the application vendors' changes and where the issue was. The vendor made additional changes to their application, which solved the problem.
An organization was experiencing network problems that prevented branch offices from accessing services in their HQ. An increase in capacity on the network connections didn't alleviate the problem. Progress Flowmon highlighted extremely large data transfers over the network from a 3rd-party monitoring system in place on some sites. This turned out to be a bug recently introduced in the 3rd-party systems in an update.
An organization was experiencing random delays when using internet communications tools. Progress Flowmon revealed that the firewalls in use had a new bug that was terminating sessions. The firewall vendor acknowledged the bug and fixed it via an update.
Learn more
We've only scratched the surface in this short post. Hopefully, it has given you the appetite to learn more about Progress Flowmon and how you can use it to help deliver the best application experience to your staff and customers.